It's Wild Card Weekend! Hello NFL Playoffs! If you know me you know I am a Seattle Seahawks fan first, but of course I live in Colorado so most of my family are Broncos fans, there are some Raiders fans (uggggg!!!) seriously? And my dad is THE ONLY NEW ENGLAND PATRIOTS FAN IN THE FAMILY! And he sticks to it too.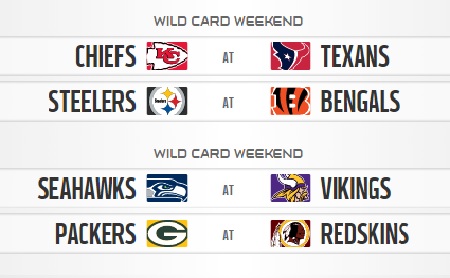 Here is how I see this years NFL playoffs going down. Wild-card weekend is coming up and you can see the schedule on the left.
Chiefs @ Texans:
I got the Texans. JJ Watt is going to GO WILD. Total destruction. I know Kansas City might be a favorite but I don't see it that way #Haven'tWonAPlayoffGameIn22Years.
Steelers @ Bengals:
Going with the Steelers! Antonio Brown, Big Ben (Parliament) had to say it. They got in thanks to the Jets losing and I think they'll make the most of it.
Seahawks @ Vikings:
Don't even need to say it do I? Seattle wins. Doug Baldwin has as many receiving TD's this season as Teddy B. has passing, nuff said. P.S. Russell Wilson is ON FIRE! 0° outside - no problem! Let's get it on!
Packers @ Redskins:
There are two games my dad and I disagree on and one of them is this. I have Green Bay, he has the Redskins, I think it's a Kirk Cousins thing, idk. But I see the Pack getting their game on!
"….I firmly believe that any man's finest hours – his greatest fulfillment of all that he holds dear – is that moment when he has worked his heart out in good cause and lies exhausted on the field of battle – victorious." - Vince Lombardi